[Hysan Brand] Hua Tuo Medicated Plaster
Click here to Order or Enquiry this product
<!!! img id="ProdPic" onClick="resizePic(1.05,300,500)" style="cursor: hand" src="images/products/HuaTuo_MedicatedPlaster.gif" border="0" align="right" width="300" alt="Click to enlarge the image"/> <!!! img id="ProdBigPic" onClick="resizePic(1.05,300,500)" style="position: absolute; right: 10%; display: none; cursor: hand" src="images/products/HuaTuo_MedicatedPlaster.gif" border="0" align="right" width="300" alt="Click to restore the image"/>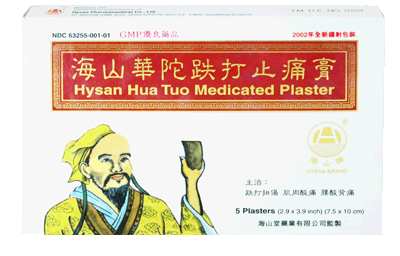 This plaster are elaorated with scientific methods selecting super Chinese medicinal herb. According to popular traditional prescriptions; so that it has the effective of invigorating the circulation of blood. This plaster has good curing effect to treatment of injuries from falls; sprain and rheumatalgia. This plaster is good one in common use for family and travelling.

Packing: 5 pieces in each box (2.9 x 3.9 inch) (7.5 x 10 cm)

Active Ingredients: Menthol, Methyl Salicylate, Olibanum, Myrrha, Resina Pini, Sesame Oil.

Directions: Adults & Children 12 years of age and older: Clean and dry the affected area. Remove from backing plastic and apply to the affected area not more than 3-4 times daily. Avoid hairy surface of skin, highly adhesive plaster may hurt skin upon removal.